COVID-19 Resources, Links & Updates
Physical Distancing during the COVID-19 Pandemic
For the safety of yourselves and our residents, please maintain a 2m distance between you and anyone not in your social bubble.  If you are not able to maintain this distance, please wear a mask.
Image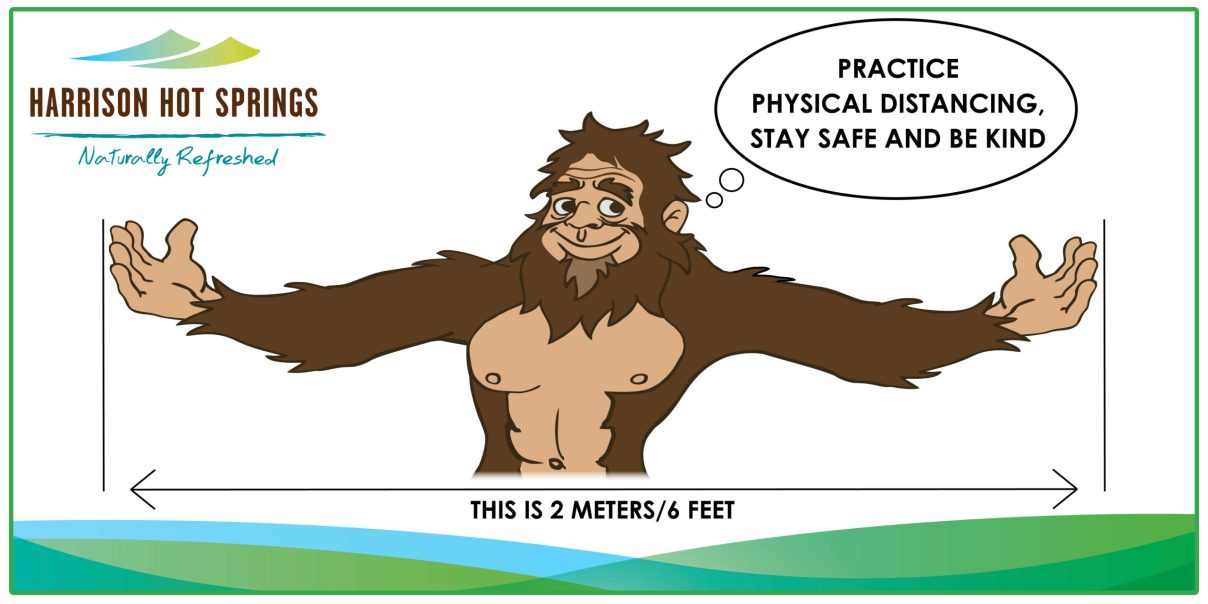 Below is a list of resources and links related to  COVID-19. Scroll down to see Village updates regarding COVID-19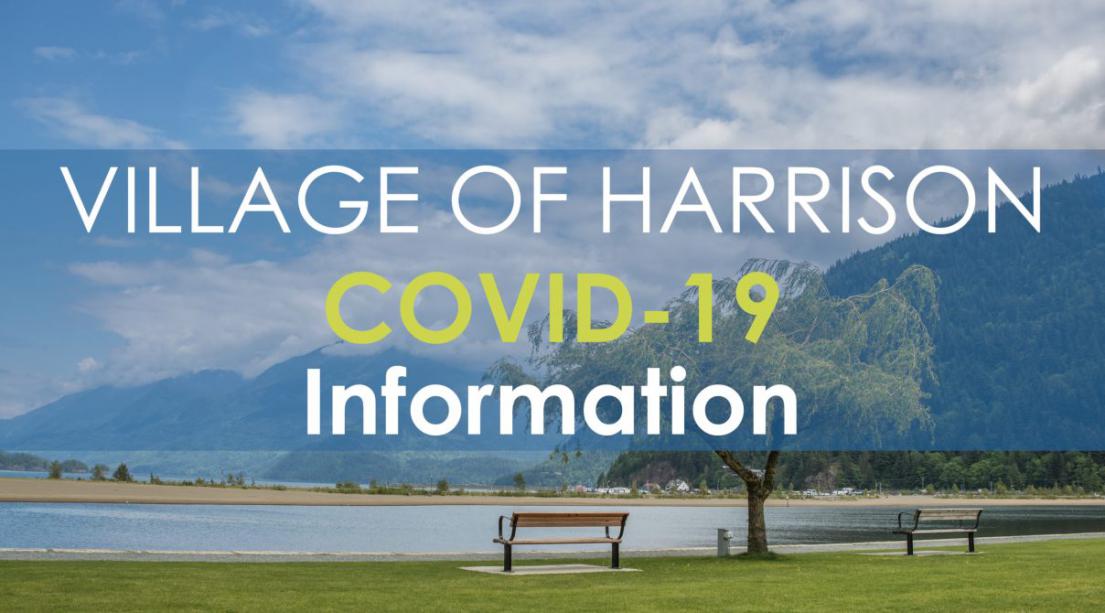 Updates
Eligible Fraser Health residents can book their appointment at 1-855-755-2455 and by using Fraserhealth.ca/vaccinebooking. This is the first step in building community immunity to COVID-19.

The Village of Harrison Hot Springs, in partnership with Tourism Harrison and the Harrison-Agassiz Chamber of Commerce, has launched an initiative to promote confidence in patrons who visit the community's tourist accommodations and food service establishments.

COVID-19 is still circulating in our communities. We must remain committed to flatten the curve once again and use our COVID sense. Here are some suggestions to from Fraser health to have courageous conversations.

The Village has re-opened the playgrounds and outdoor workout equipment. Please be socially responsible when using public facilities and pay attention to posted signage.

In order to reduce the risk of COVID-19 the Village Office has re-opened with hours of operation from 8:30 a.m. to 12:00 noon and 1:00 p.m. to 4:30 p.m. The office will be closed between 12:00 noon to 1:00 p.m. Please note that only one person or a related party of no more than two will be permitted in the Village Office at a time. 

Bill payments may also be made online or dropped off through our mail slot.

Our website, Facebook page, and public community boards will be updated regularly, so please watch for updates.

Thank you for your patience and for your support of these important public health measures.

The Village has re-opened the tennis and pickleball courts. Please be socially responsible when using public facilities.

Effective today, all Regular Council Meetings will be held at the Memorial Hall, 290 Esplanade Avenue, Harrison Hot Springs.

Measures have been taken to allow for 2 metre physical distancing between seating areas.   Please sit in designated seating areas only. Once designated seating has been filled, no further seating will be permitted. 

These measures are in place to ensure the health and safety of Council, staff and the general public.

Thank you for your cooperation.

BC Transit will be reintroducing front door boarding and regular fare collection in all BC Transit communities as of June 1, 2020. This includes the transit systems in Chilliwack, Central Fraser Valley, Agassiz, Harrison Hot Springs and Hope.

Please note that members of the public are able to purchase transit fare products at the FVRD Online Store. Purchased passes will be mailed via Canada Post so customers will need to allow themselves enough time for their order to be processed and mailed.

For more information:

BC Transit Services

604-795-3838

For a complete list of programs, services and resources

Mayor Facio makes a plea urging visitors not to visit at this time. Please click here to view the news release.

Image

In order to comply with BC's health officials' recommendations of social distancing and slowing the spread of COVID-19, Chilliwack Division of Family Practice and Fraser Health have implemented strategies regarding access to care.

Please click here to view Fraser Health's notice.

BC Hydro has introduced a new COVID-19 Relief Fund to help customers that are facing financial challenges as a result of the COVID-19 pandemic.

Under the program, residential customers will be able to apply to receive a bill credit of three times their average monthly bill amount while commercial customers will be able to apply to have their electricity use charges waived for three months. 

More information on the COVID-19 Relief Fund and the application form is available on their COVID-19 facts page. Customers will have until June 30 to apply

BC Transit has made an announcement regarding new physical distancing requirements for the Fraser valley:

Today, Monday March 30, 2020, BC Transit will be limiting the number of passengers on each bus. Under the direction of BC Transit Operations, transit operators will be monitoring passenger capacity to allow additional space in-between customers, and provide space for people to move within the bus. BC Transit Operations has identified the maximum number of passengers per bus and is working  with our operators to implement distancing measures.  While we believe pass-ups are unlikely due to the decrease in passengers utilizing transit and service levels, it is still a possibility and it is recommended that customers to leave plenty of time for their trip on transit.

BC Transit has also set up a page to provide ongoing updates to customers. View the webpage here.

If you have any transit enquires, please visit the BC Transit webpage or contact Transit Services at 604-795-3838

Due to temporary traffic closures, effective immediately the St. Alice bus stop is temporarily closed.

All passengers traveling to and from Agassiz or Chilliwack must board and disembark at the Lillooet Avenue bus stop.

Image

Due to the ongoing concerns surrounding the COVID-19 pandemic and the threat to people and property within the Village's jurisdiction, steps have been taken to close the municipality to visitors.  In support of this, access to Esplanade Avenue has been closed in an effort to discourage people coming into our community at this time.  We can only hope that the measures that the Village, along with other levels of government, takes now will reduce the length of this emergency.

The goal is to reduce the number of people using our public spaces because people are not practising social distancing in our public parks and spaces.

We wish everybody well during this difficult time and we regret the terrible impact that this global crisis is having on our important business community. We hope that it will be over soon and, in the meantime seek your assistance in encouraging people to stay away for now.

The Village of Harrison Hot Springs has taken steps to help minimize the risk of transmission of the COVID-19 (Coronavirus) and has closed its rental facilities to all user groups.  Notices to the affected parties have been given and further updates will be released as necessary. 

Effective March 16, 2020, the Village will not be accepting any requests for bookings at our Memorial Hall facility until further notice.   

This measure is to help protect the health and safety of the public.

We thank you for your cooperation.